Reading is (much) fun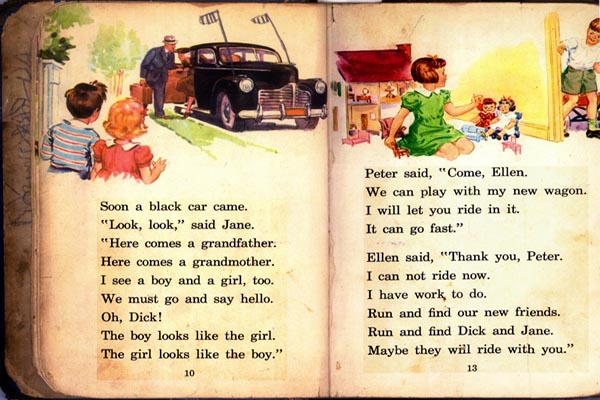 When I was five years old I learned to read with the help of Dick and Jane and their baby sister and their dog, Spot. Oh, yes, and some nice teachers, too! Since acquiring that marvelous skill, I've enjoyed many adventures on the 'yellow (and red and brown and black and green) book road'.
A friend came across one of those old readers in a yard sale and brought it to our writers meeting. Blast from the past! I immediately borrowed it to make color copies of a couple of pages for my site.
Thanks to my 'little brother', who scanned them for me, I've uploaded them. If you learned to read with Dick and Jane you'll be happy to see them again on this page, I hope.
My wish is that everyone be able to read whatever they need to read. Unfortunately that is not always the case. So I encourage all my visitors to go to my RIF page and then consider giving any support possible to the cause of literacy.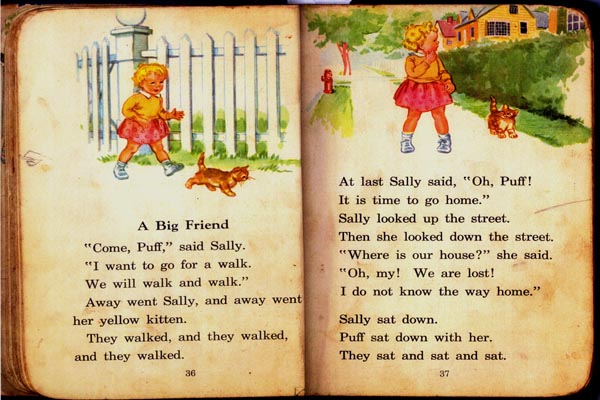 We were poor, to put it mildly, so we didn't have books in our house. But I gobbled all my reading textbooks in the first few weeks of school every year. And then there was the 'rolling library', a van loaded with books which supplied the tiny rural schools my siblings and I attended. This book van was usually based at the county seat or the county high school. Later I devoured the books in the libraries of the larger schools we attended, from Nancy Drew and the Hardy Boys to the 'Red Badge of Courage'.

If all the books I've read in more than 60 years were laid end to end, how far would they reach? Who knows? But it would be a long way, you can bet!

If I sound as though I enjoy reading, it's because I do. I believe it is THE single most important skill anyone can learn. When children have some kind of difficulty learning to read, no stone should be left unturned to find the roadblock and remove it.

Many, many times, the roadblock was not removed. Statistics tell us that 20% (1 in 5) adults in this country are functionally illiterate. 'Functionally illiterate' means that these adults are unable to read a label on a can or jar of food or a prescription bottle, their children's homework, or fill out a job application. This is why I worked as a tutor with my local Literacy Council, which uses the Laubach method of 'Each one, teach one'.




A few of my favorite authors, in no particular order -


the late Catherine Marshall
Dr. Smiley Blanton
Marjorie Holmes
Max Lucado
C. S. Lewis
Marion Bond West
Mary Higgins Clark
Dean Koontz
Rex Stout
Agatha Christie
Nancy Bartholomew
Stephen King
Sue Grafton
John Grisham
Janet Evanovich
Stuart Woods
Kathryn Wall
Margaret Maron
members of my writing groups (surprised you!)